Retiree Christmas Party
Eight volunteers from Local 773 cooked and served food at the recent yearly Retiree Christmas Party. They have over 400 retirees and 45 Gold Card members. Over 200 attendees were at the event.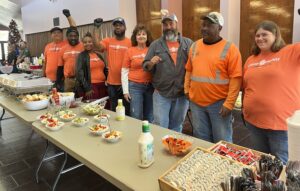 Local 773 Teams Up to Bring Food to Families in Need
Since the pandemic, many Americans have struggled to put food on the table, not to mention during the holidays. For several years, Local 773 has partnered with several organizations to help the community and give the gift of a good meal.
On Friday, Nov. 17, the volunteers brought aid to three different locations.
First, they made food deliveries of hams and traditional sides to seventy families to a rural school in Dongola, Ill. Then, they were off to a food pantry in Thebes, Ill., to drop off more meals.
Finally, in Cairo, Ill., for the seventh year in a row, they partnered with Comptroller's Mendoza's office and Arrowleaf Human Services to provide turkeys and traditional sides to 150 families considered in need of services.
"If you can help just one person, every little bit does add up, and it does make a big difference in someone's life," Business Manager Jerry Womick said.