(PARIS, IL) Laborers' Home Development Corporation held a ribbon cutting on Tuesday, May 18, to commemorate completion of redevelopment of the former Paris High School into senior affordable apartments.
Tiger Senior Apartments consists of 42 units of affordable studio, one-, and two-bedroom apartments for seniors ages 55+. All units are reserved for households earning no more than 60 percent of the Area Median Income, or $31,860 for a two-person household.
The development preserved and restored many original architectural features. The building was also brought up to current accessibility standards and received numerous upgrades, including masonry restoration, replacement of large, existing windows, complete replacement of fire suppression, mechanical, electrical, and plumbing systems, a new elevator, and energy code related upgrades.
"We're extremely proud of our relationship with this community," said LHDC Chairman John F. Penn. "We appreciate the opportunity to help provide much needed, high quality and affordable housing to senior citizens in Paris."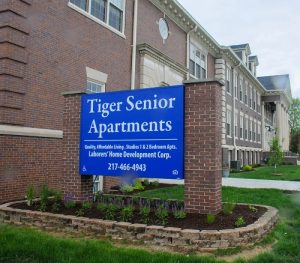 Funding was secured, in part, through the Illinois Housing Development Authority and utilizing federal and state historic tax credits. The construction and design team consisted of Worn Jerabek Wiltse, Architects, P.C. and CORE Construction.
Laborers' Home Development Corporation, an affiliate of the Laborers' International Union of North America, is a not-for-profit housing development organization, which provides quality and affordable housing that's built using 100% union labor.
Construction started November 1, 2019, and completed December 31, 2020. LHDC employed a maximum of 50 people at the busiest point but then averaged 25-30 people during the course of construction. 95% of the employees were local to Terre Haute and Champaign.
Call (217) 466-4943 for information and applications