The Laborers' Disaster Response Team (LDRT) is comprised of workers in the building trades (laborers, operating engineers, and teamsters) who, because of their professional training, can safely and efficiently move trees and other debris from roadways and people's property so first responders, utility companies, and other necessary personnel can enter a disaster area. They offer immediate relief to the suffering of disaster victims.
Thanks to a generous gift of $50,000 from Frank and Linda Vala, as well as donations from J &J Gaming, the Central Illinois Building & Construction Trades Council, and the Associated General Contractors of Illinois (AGC), LDRT was able to purchase new equipment, including deployment trailers. This expansion will enable LDRT members to continue responding quickly and efficiently, helping people and families affected by natural disasters.
"We've had 13 deployments, and eight tornados," said LIUNA Local 477 Business Manager Brad Schaive at a May 22 event announcing the contributions. "The last four have been in the middle of the night; these donations have allowed us to get new trailers and light plants, and will enable us to do even more for our communities. These donations are going to save lives."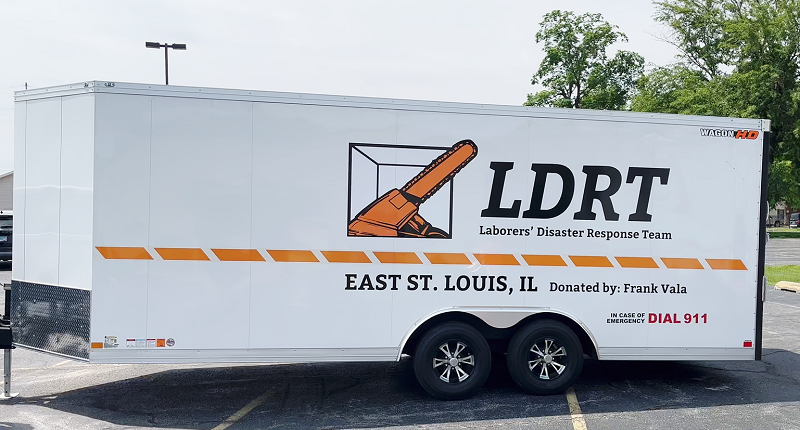 Three new trailers for deployment were displayed at the event – one for East St. Louis, one for Marion, Ill., and a third they hope to send to Indiana soon. Schaive personally thanked Frank Vala and his family who "largely made the donations possible, not from a corporate, and not from a PAC Fund, but from a personal account, because the LDRT is that important."
Springfield, Ill., Mayor Misty Buscher spoke at the event, noting how disasters strike anytime, anywhere. "And the LDRT does not discriminate; if they are needed, these men and women show up, and they're not getting paid to be there." Buscher, three weeks into office, also gave her first proclamation as mayor, thanking the LDRT for their selfless work, and naming May 22, 2023 as LDRT Day in the city of Springfield.
Illinois State Senator Doris Turner was likewise on hand, and spoke to being personally affected by a disaster in her neighborhood on the east side of Springfield. "I will forever be grateful for what LDRT did that day, for my friends, for my neighbors, and for clearing a path so I could check on my mother," she said. "These donations will allow the vision, the partnerships, and the resources of these responders to come together and serve more communities."
To learn more about LDRT, contact the LIUNA Midwest Region office at 217-522-3381, or visit the LDRT page on the LIUNA Midwest Region website.