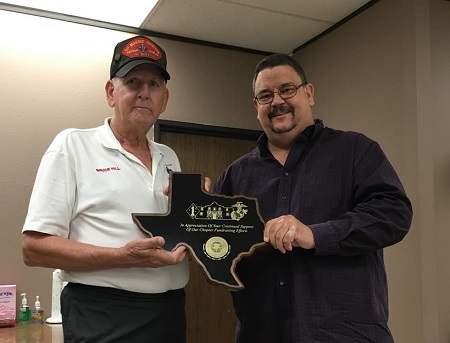 On Tuesday, August 28, Mary Davidson (retired Local 1095 Business Manager), Alvina Olveda (retired Local 1095 member/former Midwest Region Laborers' Organizer), and Robert "Bruce" Hill (Treasurer of the Alamo Chapter, 1st Marine Division), surprised the Southwest Laborers District Council (SWLDC) Delegates with an unannounced visit.
Bruce proceeded to present an award and plaque to the SWLDC for the council's continued participation and volunteer efforts.
"The Southwest Laborers District Council is the backbone of our fund-raising efforts," Bruce Hill said. "All the money that comes in goes back out to scholarships, and since the SWLDC has been helping us these past five years, we've already raised about $45,000."
Significantly, these monies support the First Marine Division Association Scholarship Fund in its efforts to:
Award grants to dependents of veterans of the First Marine Division (plus attached and supporting units) who are deceased, missing in action, or permanently disabled,
Fund scholarships, including both the Alamo Detachment 315 Marine Corp League Scholarship program and the area's Young Marine programs, and
Help the MCL fund scholarships for both eligible children and former Marines who wish to attend accredited colleges and universities.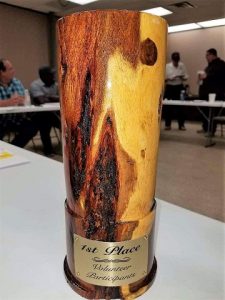 The Alamo Chapter FMD Association also gives support to the Marine Wounded Warriors and the Center for the Intrepid at San Antonio Military Medical Center.
Bruce also presented a plaque bestowing an honorary membership in the Alamo Chapter of the 1st Marine Division Association to Reno Hammond, SWLDC Business Manager.
"Being conferred such honorary membership is humbling, to say the least," stated Reno. "To be allowed to share company with these heroes and be in association with them is an unparalleled honor and privilege. I cannot say that I am worthy of such a privilege, but I'll do my best to ensure that I will live up to it, and attempt to exemplify the ethos of the 1st Marine Division."
(Note – the headline image shows Robert "Bruce" Hill presenting the fundraising plaque to Reno Hammond, SWLDC Business Manager)