On August 10, 2020, a thunderstorm bringing heavy rain and high-speed winds blew through the Midwest, including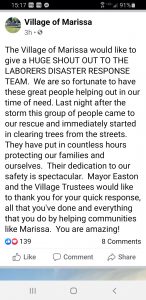 Madison, Monroe and St. Clair counties in Illinois. The storm was part of a broad path of destruction caused by a weather pattern called a derecho. The derecho left thousands without power uprooted trees and brought its destruction to homes and lives.
The Village of Marissa, in St. Clair County, was fortunate to have the assistance of the Laborers' Disaster Response Team (LDRT) to clear debris and help out wherever needed. The photos demonstrate the storm's devastation, as well as some of the LiUNA brothers and sisters who gave back to those in their community at a time they needed it most.