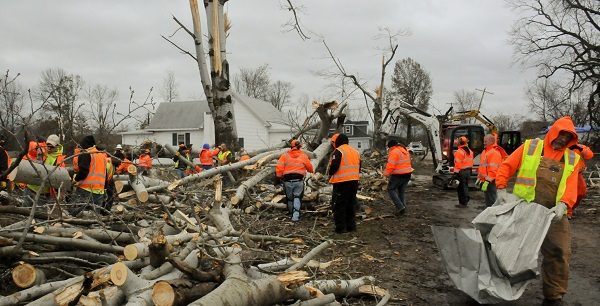 Volunteers Clear Debris From Path of Emergency Crews
(TAYLORVILLE, IL) On Saturday, December 1, a rare wintertime tornado struck the central Illinois town of Taylorville. More than 100 structures were damaged with 34 completely destroyed. Debris blocked streets, yards and driveways making them impassable for emergency crews. Within 2-hours the Laborers' Disaster Response Team (LDRT) was on-site to safely and efficiently start moving trees and other debris from roadways and people's homes and property so first responders, utility companies and other necessary personal could enter the disaster area.
LDRT is comprised of Laborers and Operating Engineers who have spent much of their professional lives removing debris from construction and demolition sites. That night, more than 70 union members and 10 pieces of heavy equipment were on the ground until 3 a.m. to help the people of Taylorville recover. The next morning they returned at 7 a.m. to complete the clean up.
Providing the operation with personnel and equipment were the Village of Riverton Public Works Department, IUOE Local 965, Lincoln Land Concrete, Coffeen Fire Department, LIUNA Local 670 and LIUNA Local 477.
"It's a blessing to see good people putting the needs of others before their own," said Brad Schaive, Director of LDRT. "We don't just build the roads and buildings in these places, we are members of the community and welcome the opportunity to give back. LDRT will always be prepared to support local communities; we're doing God's work."
For more information contact Brad Schaive at (217) 522-0014.