November 21, 2019
(PARIS, IL) Laborers Home Development Corporation (LHDC) held a ceremonial "wall breaking" today to commemorate the start of construction to redevelop the former Paris High School into senior affordable apartments.
Tiger Senior Apartments will consist of 42 units in a mix of studio, one, and two bedroom apartments. Site amenities will include a computer room, trash and/or recycling chutes, community room, a non-smoking building and microwaves and Energy Star-rated ceiling fans in each unit. In addition, the building will have an on-site management office, gymnasium, auditorium, kitchen, and lounges.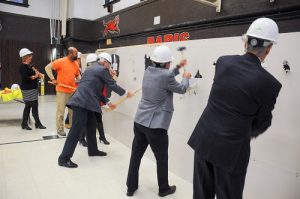 The development will preserve or restore many original architectural features. The building will also be brought up to current accessibility standards and will receive numerous upgrades including masonry restoration, replacement of large, existing windows, complete replacement of fire suppression, mechanical, electrical, and plumbing systems, a new elevator, and energy code-related upgrades.
"We're extremely proud of our relationship with this community," said LHDC Chairman John F. Penn. "We appreciate the opportunity to help provide much needed, high quality and affordable housing to senior citizens in Paris."
Total cost for the endeavor will be just under 14 million dollars with funding secured, in part, through the Illinois Housing Development Authority. The construction and design team consists of Worn Jerabek Architects, P.C. and CORE Construction.
Laborers' Home Development Corporation, an affiliate of the Laborers' International Union of North America, is a not-for-profit housing development organization, which provides quality and affordable housing that's built using 100% union labor.
Tiger Senior Apartments wallbreaking ceremony group photo, from left: LHDC Executive Director Jayne Lourash, Local 159 member Mary Rosas, Paris Chamber of Commerce Executive Director Linda Lane, Local 159 member Nathan Waite, LHDC Chairman/President John Penn, Local 362 member Jim Scholl, Paris Mayor Craig Smith, Director of Field Operations, Tony Segobiano, Retired LHDC Executive Director Mike Goetz, Local 159 Business Manager Joe Riley, Local 159 member Chris Staggs.