With construction season ramping up across Illinois and the rest of the country, LIUNA, along with the Illinois Department of Transportation, Illinois State Police, and other industry partners, have joined forces for National Work Zone Safety Awareness Week. Together, they are urging drivers to put down their phones, stay alert, and remember that "Work Zones Are a Sign to Slow Down."
"Our lives are on the line," said Jeff Deppe, Secretary-Treasurer of LIUNA Local 309 at a press conference held in Rock Island. "We are somebody's father, we are somebody's son, somebody's mother or sister…we just want to go home.
I've personally sat in the hospital holding the hand of a wife who had to identify the body of a Laborer who died on the job because they got hit," said Deppe, "and knowing the reality of what we do, we all do, we're just asking you to slow down and leave a little earlier."
Jeff Deppe is running for State Representative in the 72nd House of Representatives race.
LIUNA was also represented at press conferences held in Peoria, Springfield and Carbondale by Great Plains LECET Director Dane Simpson, LIUNA Training Instructor Brent Whitecotten, and LIUNA Local 773 Business Manager Jerry Womick, respectively.
According to IDOT the following guidelines for traveling through work zones should be followed at all times:
Drop it and drive. Phones and electronic devices down at all times – it's the law.
Obey the signs. They will help you safely navigate work zones – and sometimes avoid delays.
Slow down. The posted speed limits are there for the safety of workers and you. Be on the lookout for slowed or stopped traffic.
Consider the limitations of heavy equipment, trucks and commercial vehicles. Provide them extra distance to come to a complete stop if they are behind you.
Remember, when entering a construction work zone… "Work Zones Are a Sign to Slow Down."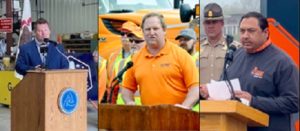 Dane Simpson, Brent Whitecotton, and Jerry Womick
Jeff Deppe – National Work Zone Safety Awareness Week