Day two of National Work Zone Awareness Week began with a press conference hosted by the Illinois Department of Transportation (IDOT) at their headquarters in Springfield, IL.
Guest speakers included Illinois Transportation Acting Secretary Omer Osman, Bill Frey – Associated General Contractors of Illinois, Training Instructor Tabitha Stambaugh from Laborers Local #477, and Illinois State Police (ISP) Acting Director Brendan Kelly.
"If you are on our roads, you will be driving through work zones and should expect the unexpected," said Acting Illinois Transportation Secretary Omer Osman. "Always remember, the people you pass working on equipment or behind the cones and barricades are someone's father, mother, son, daughter, friend or neighbor. At the end of the day, they want to get home safely, just like you."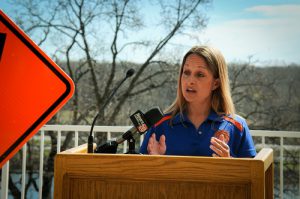 This year's awareness week comes amid an alarming spike in motorists striking ISP vehicles. Three troopers have lost their lives already in 2019 in traffic-related fatalities.
"The Illinois State Police will continue to bring awareness to the public regarding issues that affect the lives and safety of the workers of Illinois," said ISP Acting Director Brendan Kelly. "The goal of this week is to encourage people to make responsible choices and focus on the road when they get behind the wheel, so that together we can prevent another tragic loss to another family."
Speaking on behalf of LIUNA, Tabitha Stambaugh reminded the public that "each year, more than 5,300 motor vehicle crashes on average occur in Illinois work zones, resulting in more than 1,500 injuries." "In 2018," Stambaugh continued, "18 people died in work zones in Illinois, including one worker – the lowest total since at least 2001, but still far too many."
According to IDOT, the following guidelines for traveling through work zones should be followed at all times:
Drop it and drive. Phones and electronic devices down at all times – it's the law.
Obey the signs. They will help you safely navigate work zones – and sometimes avoid delays.
Slow down. The posted speed limits are there for the safety of workers and you.
Be on the lookout for slowed or stopped traffic.
Consider the limitations of heavy equipment, trucks and commercial vehicles. Provide them extra distance to come to a complete stop if they are behind you.
Remember, when entering a construction work zone … Drive Like You Work Here.