Young people train hard for sports, and few sports are as one-on-one competitive as wrestling. The Laborers are sponsoring two tournaments annually to raise visibility with these youth as potential apprentices.
The LIUNA Midwest Nationals Wrestling Tournament is held at Illinois Wesleyan University in Bloomington, a recurring event since 2004. Young people from first grade through high school from over 20 states participate in this one-day event, and foreign youth wrestlers have competed also.
Also, the LIUNA Open Wrestling Tournament rotates to various locations. Last year it was at Illinois State University (ISU) in Normal, with 400 participants from 21 states.
The long-time and stalwart volunteer for these tournaments is former high school wresting coach Mike Manahan. Mike has a long history with the Laborers.
Growing up in Bloomington, Illinois, Mike's father operated the "Senate," a downtown tavern that rented from Laborers Local 362. Then 362 business manager Paul Penn dispatched Mike to work during the summer months to help the young college student. Mike worked for Eaton Asphalt, a prominent local contractor at the time.
Mike went on to wrestle in Alabama and eventually Illinois State University, where he was team captain. He coached teams and taught at Bloomington Junior High, Eureka High School and eventually Olympia High School in rural McLean and Logan counties, where he initiated the wrestling program and taught for 35 years. He also assisted the Mackinaw and Heyworth, Illinois, schools in beginning their wrestling programs. Mike was inducted into the Illinois Coaches and Wrestling Officials Hall of Fame in 1997.
While a student wrestling at ISU, Mike and his fellow wrestlers would come to Bloomington High School to practice with area students. A young wrestler he met there was LIUNA Local 362's Paul Penn's son, John. A lifelong interest in the sport and a friendship developed between the two. John is currently LIUNA Midwest Region General Manager and a LIUNA Vice-President.
Mike says that wrestlers are a natural group to recruit to union apprenticeship, with their physical shape and determination. "It's good because wrestlers are ornery kids, they are hard-working kids – they could become great Laborers. You don't need a college degree to be successful and a Laborer is a great career. It's a good mix with Laborers and wrestlers – they go together."
At the tournaments, the young people and their families are exposed to LIUNA. Mike appreciates the support for the non-profit tournaments, which helps fund the expenses for volunteer referees, timers, and other expenses. LIUNA has purchased a large wrestling mat used during the tournament, proudly displaying the union's initials. LIUNA also helps fund recognition for the tournament winners – two years ago they received belts, this past year they received high quality backpacks with the LIUNA name on them.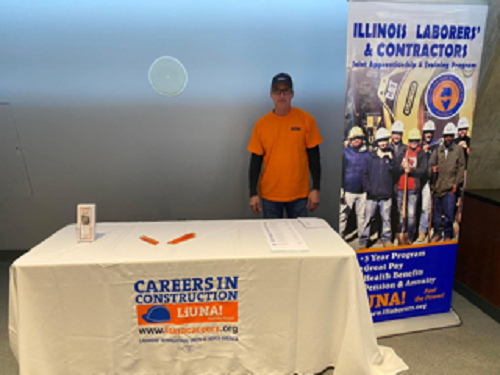 "We really appreciate the Laborers being involved with the tournaments," Mike said. "It's our youth. It's a program helping our young people. If a kid can't afford it, we take care of the fees and ensure they can enter, thanks to LIUNA."
Mike recognizes Vice-President Penn's caring attitude. "It's family. Everybody in the community and every union member is family to him. That's what I respect the most. How many union vice-presidents are cleaning tables after the Labor Day picnic or will go to the grocery store for you? I respect him because of what he does and how he cares for people. John gets people to work together."
The respect is mutual between Penn and Manahan. "Mike devotes himself to youth through wrestling. Planning these tournaments and then ensuring their smooth operation means long days," said John. "Mike is dedicated to the sport, but most especially to young people to see that doors open for them and they are supported to maximize their potential."
John Penn sees the natural fit between wrestling and LIUNA. "Tournaments bring families together from throughout the Midwest Region. As we look for the next generation of Laborers, exposing these young people to our apprenticeship programs and career possibilities is a win-win. Any young person who is wrestling or committed to another sport or school extra-curricular activity is a youth with determination. Those are our potential LIUNA future."