Laborers' Economic Development Corporation
Who?
The Laborers' Economic Development Corporation (LEDC), formally known as Laborers' Advancing Community Enrichment (LACE), an affiliate of the Laborers' International Union of North America, Midwest Region, is a not-for-profit corporation created in 2014 to promote economic development in low-income communities, the prevention of community deterioration, the creation, rehabilitation and preservation of affordable residential properties in low-income communities, the creation and preservation of jobs in low-income communities through economic development, and the cooperation with other non-profit organizations to promote these purposes.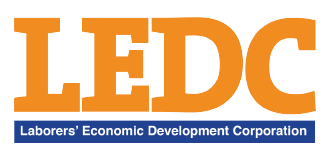 What?
Offering options for providing equity and lower cost financing for commercial development and business expansion in low-income communities.
How?
The New Market Tax Credit (NMTC) Program, created in 2000 by the Community Renewal Tax Relief Act of 2000, is jointly administered by the Community Development Financial Institutions Fund (CDFI Fund) and the Internal Revenue Services (IRS). The NMTC Program uses federal tax incentives to attract private capital into operating businesses and real estate in urban and rural low-income communities (LIC).
Where?
LEDC currently is authorized to offer NMTCs in Illinois, Texas, Oklahoma and six counties in Missouri: Franklin, Jefferson, Lincoln, St. Charles, St. Louis, and Warren.
Kaitlyn Ryan, Director
kryan@midwestlaborers.org
2201 Eastland Dr., Ste 4
Bloomington, IL, 61704
309-821-0330
Board of Directors
The LEDC Board of Directors is comprised of the following:
Midwest Regional Manager of the Laborer's International Union of North America:
David A. Frye (Chairman)
Southwest Laborer's District Council Business Manager: Reno Hammond
Missouri/Kansas Laborers' District Council Business Manager: Brandon Flinn
Missouri/Kansas Laborers' District Council Secretary/Treasurer: Tim Bell
Indiana Laborer's District Council Business Manager: Brian Short
Great Plains Laborer's District Council Business Manager: Anthony Penn
Southwestern Illinois Laborer's District Council Business Manager: Glyn Ramage
Community Advisory Council Representative: Randy Harris
Low-Income Advisory Board:
Randall Harris, United Way for St. Louis Metro Area. Six Metro Counties: Franklin, Jefferson, Lincoln, St. Charles, St. Louis & Warren
Monroe Nichols, Oklahoma Partnership for Expanded Learning: State of Oklahoma
Jessica Wolff, Deputy Director of the Better Builder and Policy Program with the Workers Defense Project: State of Texas