LDRT Responds in Sherman, Ill.
April 1, 2023, brought something more than trickery to hundreds of thousands of Americans across 10 states who were impacted by severe weather the night before. The residents of Sherman, Illinois, were among the hardest hit.
A tornado tore through the town, causing severe damage to a subdivision and destruction to a nearby horse farm. No casualties were reported, but multiple homes were destroyed, vehicles were damaged, power lines were down, and trees were uprooted and shredded.
The Laborers' Disaster Response Team (LDRT), which includes members of The Laborers' Union (LIUNA) and the Operating Engineers, jumped into action that night with LIUNA Local 477 Business Manager and LDRT Director of Deployment Brad Schaive. This was the 13th deployment of the LDRT, and the eighth tornado.
"We were on alert 12-hours in advance," said Schaive, "because our cooperation with the Office of Emergency Management and local municipalities allows us to be on top of developing knowledge about storms." The tornado struck around 6:15 p.m., and more than 80 LDRT volunteers drove out in the dark, amongst downed trees and hazardous power lines, in driving wind, rain, and 40-degree temperatures.
"There were chainsaw crews, heavy equipment crews, logistical officers and more working until 1:30 in the morning," Schaive recalled. "At 10:00 a.m. the next day we were headed back out."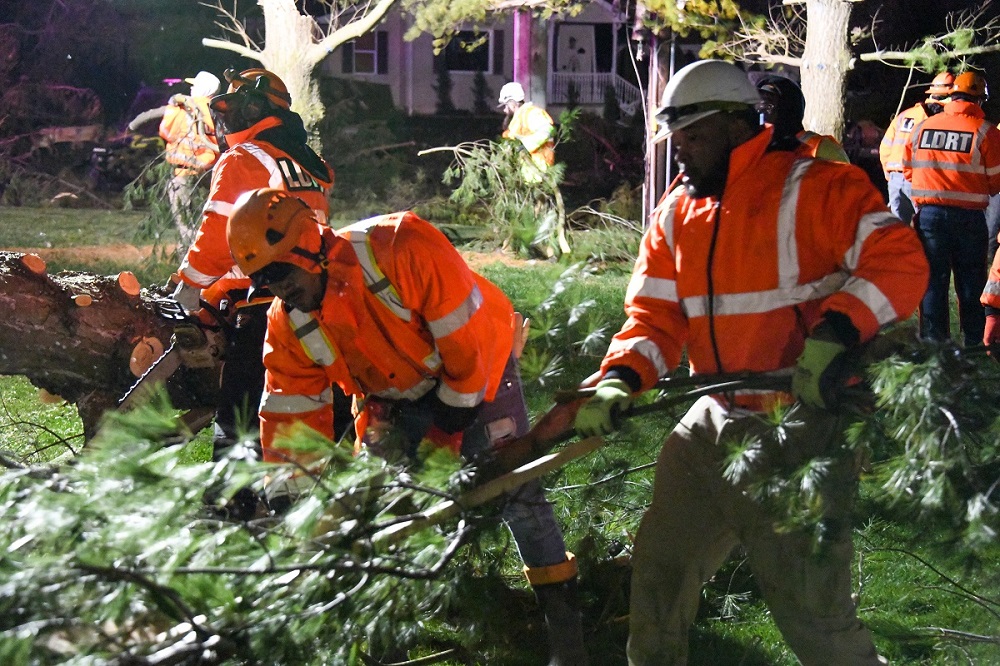 With changing weather patterns and trends, Schaive unfortunately sees more work for the LDRT. Over the years, they may have gotten more efficient, but some parts of the job will never be easy.
"The men and women are highly motivated and trained. Risk and danger is always going to be there, but we bring in some of the best training," he said. "And every time we bring a little more knowledge and experience. What never gets easier is being eye-to-eye with the people who have suffered these losses."
In fact, as the crew arrived to help in Sherman, they found the home of one of their Union brothers had been destroyed. "These people are so dedicated to helping," Schaive said, "that when we pulled up he apologized for not being able to help us, when in fact it was his turn to be helped."
Schaive sees LIUNA and LDRT as a logical match. "Laborers build all these roads and bridges in their communities and invest their time and hard work; why would we not be there when the other people who live there need us the most?"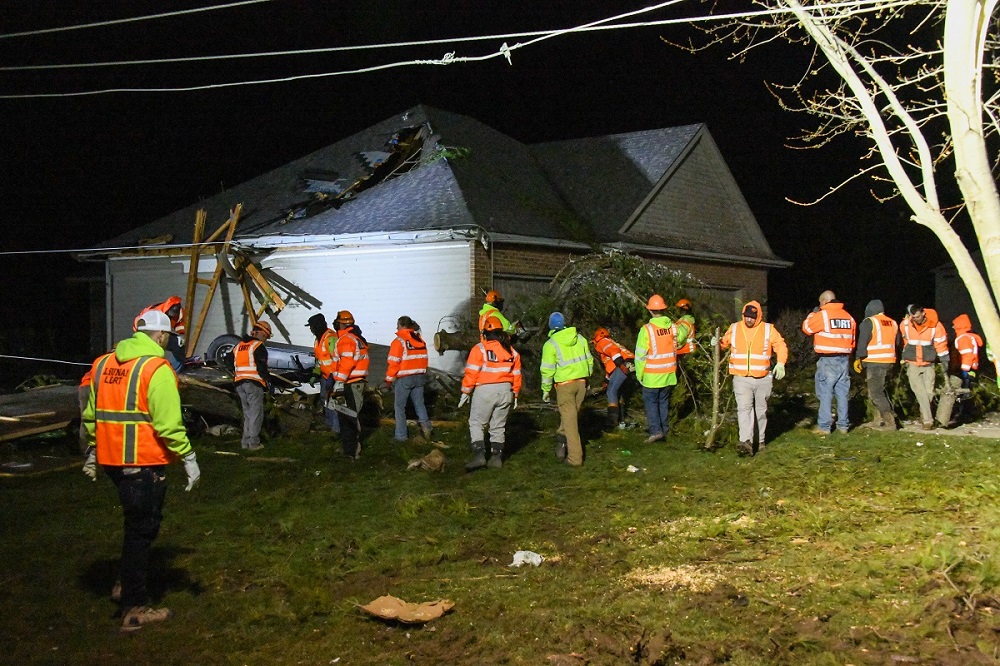 For now, it's time to sharpen the saws, fill fuel tanks, service equipment, and so on. The LDRT is already on alert for more spring storms, and more communities to help.
To learn more about how you or your community can get involved with LDRT, contact the LIUNA Midwest Region office at 217-522-3381.
Sherman is approximately six miles from Springfield, the state capital.